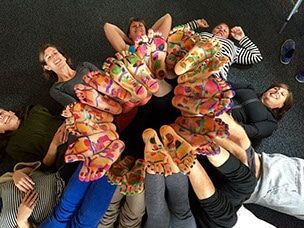 Dave Taylor –

Massage Training
Dave Taylor is a qualified teacher of Raynor Massage and runs massage training courses in London. There is now a growing number of Raynor Massage practitioners in the UK which is creating more demand for this treatment as clients are seeing just how effective this massage treatment is. Raynor Massage Courses in London are intensive but short providing quality training to groups of no more than 16 students to one teacher. Click here to view massage course dates and prices. Dave teaches two Raynor massage courses, the Certificate and the Diploma.
The Certificate course is an intensive 5 day course and will get you started in massage. For those wanting to work professionally in massage then we recommend that you take the 10 day combined Certificate and Diploma course.
The London massage courses are held in Putney in the Thames Rowing Club which is easily accessible using public transport or by travelling by car.
On completion of the course, you are then able to get professional indemnity insurance which will allow you to work in different settings.
Raynor Massage London – Thames Rowing Club
Putney Embankment
London SW15 1LB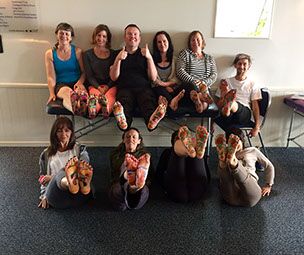 Upcoming Massage Courses in London
Our course dates run throughout the year, please click the link below to view latest dates and prices.
Raynor Massage Training in London. Begin planning your new career today?
Join Dave Taylor for a life changing experience of hands on practical learning.
In this 5-day introductory massage certificate training course you will learn how to quickly develop your techniques and begin to massage successfully, while aiding your clients on their journey to recovery.
Making use of more than 20 years of practical experience and the studies of massage traditions all over the world, Brandon Raynor crafted Raynor Massage as a one-of-a-kind massage style, organised to locate and overcome residual tension in the human body.
You will get started at a fast rate, learning and practicing Raynor Massage, always remembering the primary goal: releasing all residual pressure in the muscles of the human body. This course is based on utilising all-natural interconnections between body, mind, and soul ñ together with working on releasing muscular tension.
It will open up the meridians (channels) through which the chi or prana (life force) circulates. Men and women leave this massage with a relaxed body and a peaceful mind, feeling completely re-balanced.
During this short and comprehensive training course, you will learn and practice how to massage using our holistic and extremely effective technique. Being trained in a group of no more than 16 students to one mentor and coach, this intensive 5-day massage course is an extremely good way to begin with Raynor Massage.
This fascinating form of massage is trained in a special system, combined with expert tutor feedback and watching your teacher on the job, you will be massaged and be massaging from the first day of the training. You will work with people of different body shapes and introduced to various difficult to handle body areas.
You are geared up to deal with many different clients on completion of your program. We do not teach by telling you to learn charts and diagrams, instead we teach you to really feel tension, to trace where it is contained in the body, and then how to remove it.
This is the pathway massage has been instructed for thousand years before it was medicalised by people who do not have confidence in the impact of healing touch and pure intuition. Your trainer will be at your disposal to offer pointers and guidance, to show you, correct and encourage you until you develop your very own massage experience.
Our bodies store tension in muscles for a lot of reasons, for instance, day-to-day stress, sports exercises, injuries, painful postural habits, many hours spent hunched over the computer keyboard, trouble experienced at your workplace or at home, all of these factors are stored in our muscles and result in problems of residual tension and aches and pains.
Without treatment, this muscular tension can lead to more severe health issues both physically and in our emotional and mental health and wellbeing. As a professional Raynor Massage specialist you can have a positive impact on people's health, help them to become and stay pain-free and release your clients from this muscular strains as well as any emotional pressure that may associate it.
The Raynor Massage course is only available by way of the Brandon Raynor School of Natural Therapies. It is run in cities all over the world. Every one of our teachers has been qualified under Brandon Raynor. They all continue to formulate their own expertise as teachers and practitioners by their constant work with Brandon.
They bring their own practical experience and skills to their classes, and all are active practitioners, working with clients all the time. You cannot get this type of training and expertise at your local college, you cannot learn it online ñ this is practical training presented by people who have matured their art and whose part is to pass it on to you and affirm you in developing your own massage style.
All teachers are appointed by Brandon Raynor, making sure that the high quality of training and teaching is of the ultimate standard.
This particular programme has been specially created for those individuals who want to pursue a career in massage therapy, or want to further enhance their massage skills. In order to be eligible for our Diploma course, it is mandatory that you study at the Certificate level, regardless of how much experience you have in this profession. However, to make things easier for aspiring students, we offer a couple of choices: they can either take both the Diploma course and the Certificate course simultaneously, or take the second week of the Diploma course at a different time or location than their Certificate course. Most of our students prefer taking both these courses together in the form of a "10-day Combined Diploma & Certificate Course". The main reason for this is that this combined programme has been designed in such a way that it seems to suit the budget and time commitments of current students.
We do not allow more than 16 students in one group, and each group is assigned one teacher. Dave Taylor is one of the most respected members of our faculty and under his expert instruction students can become fully trained massage practitioners by the end of the course. Unlike any other style of massage, Raynor Massage is a completely unique style that can be quickly taught in a matter of a couple of weeks of training. Moreover, within this time frame students can learn how to incorporate both aromatherapy and reflexology in their practice of massage.
In other words, we have designed our Massage Diploma course in such a way that it helps new professionals make a positive impression as they enter the massage industry, enabling them to take their career to a higher level. The course we offer can also help existing health professionals enhance their skills by learning a new philosophy using different methods as part of the Raynor method of massage.
The Certificate course is more practical in nature, since we teach the Raynor Massage style in a very applied manner, as the students learn by giving and receiving massages. Throughout the week, you'll get the opportunity to work with different individuals with differing body types. This helps you acquire first-hand experience on how different individuals hold tension in their bodies. As the course proceeds, you will learn how to adjust the depth of massage to best suit your customer's needs and wants.
On the concluding day of this course, we open a "student clinic", in which students provide free massage sessions to members of the public. It is a part of our assessment procedure, in which the students have an opportunity to implement everything they've learned in the course, such as taking a case history, choosing the right oils, offering full body treatments, and giving aftercare advice to clients.
Whether it's a Diploma course or a Certificate course, the goal of massage stays the same, i.e. to learn how to find tension in the body and relieve it. However, in our Diploma course we teach how to access the kind of tension that has been trapped for years. The ultimate purpose of this Diploma is to make students experts in locating and releasing bands of tension, which may be running throughout the entire body.
Upcoming Massage Courses in London
Our course dates run throughout the year, please click the link below to view latest dates and prices.
If you have any questions
About Deep Tissue Therapeutic Massage