Cristian Stanis
Massage Therapist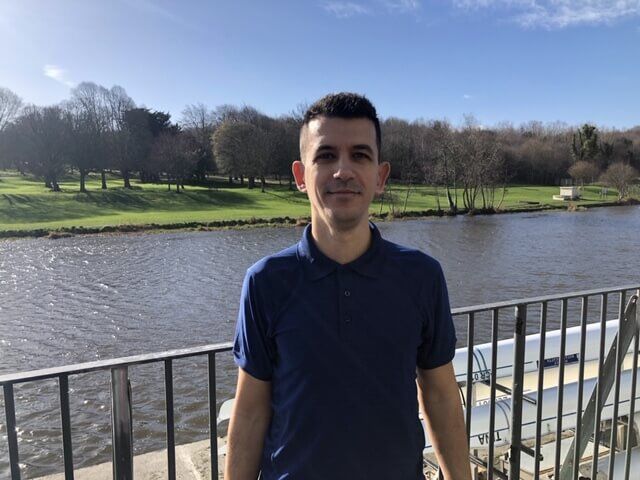 Cristian Stanis – Massage Therapist
Cristian is an Advanced Raynor Massage Therapist but offers so much more. He also brings Reflexology, Medical Acupuncture and Lymphatic Drainage Massage to the clinic in Sutton. Cristian is currently working with Formuala One drivers as their official Sports Therapist and also treats elite athletes such as Ultramarathon and Triathlon competitors.
I first encountered Cristian when I had trouble with my shoulder and wanted a deep tissue massage. I was instantly put at ease and he has such a friendly and caring approach as well as being highly professional. Cristian is an incredibly intuitive massage therapist and soon got to the route of the tension that was causing the tightness in my shoulder. Cristian is always looking to expand his knowledge and was very curious to learn more about Raynor Massage. He enrolled on my course and was a delight to teach.
Deep Tissue therapeutic massage
sutton and hastings
View latest availabilities and book yourself a visit!
Here is Cristian to tell you more…
My name is Cristian Stanis, I am from a small town in Transylvania, Romania. When I was a kid, I spent all my school holidays at my grandparents in the countryside, and there I learned the first massage techniques from my great- grandfather who was the village traditional healer.
I was fascinated by the therapeutic effects of massage on the human body. The fact that you could relieve or remove pain in the body, by only using your hands, for me felt like magic! I started to perform massage from a very young age, mainly to members of family and friends and it time it became my hobby.
I worked for approx. ten years in the IT industry, until I realised that my true passion is massage therapy. In 2013 I began to study Reflexology, Swedish and Remedial massage at Refelxovital Academy near my home town. After one year I graduated and I worked a few days a week as massage therapist at a local sports club.
In 2015 I decided to make a major change in my life and career development and I moved to the UK where I wanted to diversify and improve my massage techniques.
In London I studied various types of therapies such as Sports Massage Therapy, Lymphatic Drainage, Indian Head Massage, Advance Abdominal Massage, Reiki. Also during my travels in South East Asia I had the chance to study and experience various types of massage techniques, some of which I introduced on my treatments.
I found employment working with Urban Massage and I'm extremely proud of my consistent high rankings from clients. Working with Urban, I am involved in developing a new treatment for back pain which will launch soon.
During my work as a mobile massage therapist I was lucky to meet Dave. After a while as we got to know each other better, I became curious about his massage school, more precisely the Raynor Massage technique. So I attended his course and I was impressed by the holistic approach of Raynor Massage. Using this technique combined with my skills I have some amazing results.
I have since studied further and am now qualified with a Level 5 Diploma in Sports Massage and I also have a Certificates in Medical Acupuncture/Dry Needling and Electro-Acupuncture.
As well as massage and acupuncture, I'm also fully qualified to perform Osteopathic Spinal Manipulations and I am trained to advanced levels of Osteopathic Spinal and Peripheral Joint Articulations.
I am very pleased for the opportunity to offer my services in Dave Taylor's massage clinic in Sutton.
Book Cristian now for Raynor Massage, Reflexology, Lymphatic Drainage Massage and Medical Acupuncture in our Sutton Clinic.
Deep Tissue therapeutic massage
sutton and hastings
View latest availabilities and book yourself a visit!
If you have any questions
About Deep Tissue Therapeutic Massage