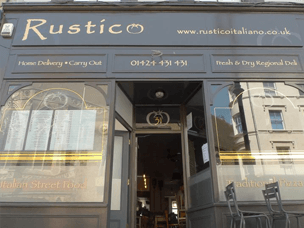 Where To Eat In Hastings and St Leonards On Sea
When visiting the neighbouring historic towns of Hastings and St Leonards On Sea in East Sussex, you will be enamoured by the many attractions – from beautiful beaches, heritage sites and museums. You will have more than enough to see and do during your day out here. Also, while travelling around these wondrous towns, you will at some point need to take a break and grab something to eat. We will look at 10 of the best places to dine in these charming traditional British Towns.
White's Seafood and Steak Bar
This local restaurant is centrally located in the Old Town of Hastings and serves some of the best seafood in the town. The restaurant also serves excellent quality steaks, sourcing their meat from local butchers.
White's Seafood and Steak Bar includes a full-service bar and has to seat both on the inside and outside,
it is a great place for lunch or dinner when you are in the town of Hastings.
The Sussex Exchange
The Sussex Exchange is a restaurant and bar located on Queensway and is opened for breakfast lunch and dinner. The restaurant serves local cuisine and European cuisine, and the setting is very tranquil and relaxing making dining here a delightful experience.
Maggie's Fish and Chips
Maggie's is a traditional British Café that serves the freshest local fish sourced from the nearby Fish Market. Your fish is cooked to order and served with chips. The restaurant also serves your favourite drinks at their well-appointed bar. This restaurant is a great place to grab a quick meal, and the environment is casual and welcoming.
Cinnamon Spice
If you are a lover of Asian food, you will enjoy dining at Cinnamon Spice. They serve a variety of Asian meals – from Indian, Balti to Bangladeshi. They also have vegetarian options available. The restaurant is opened for lunch and dinner and offer takeout and delivery services.
Rustico Italiano
This is a rustic Italian restaurant located on Robertson Street in Hastings. The restaurant serves all your favourite Italian meals and some Mediterranean and vegetarian options. The Bar at the Rustico Italiano serves a wide assortment of wines and other alcoholic beverages. This is one of the favourite Italian restaurants among locals in Hastings.
Nazar
Nazar is a charming and romantic restaurant that serves delectable eastern European and Mediterranean cuisine. They are opened for lunch and dinner and is frequented by couples due to its romantic appeal. The Nazar is another great dining option in the town of Hastings.
The Welcome
The Welcome is a traditional British Pub in the St Leonards On Sea area of Hastings. The Welcomes serves British Pub fare and is opened for lunch and dinner. The Entertainment options at this Pub is fantastic, and it is a great place to hang out, and a have a few of your favourites beers.
Bonjour Café and Restaurant
The Bonjour Café is a favourite spot for breakfast in the St Leonards On Sea area. Serving freshly cooked meals, bacon croissant and a wide variety of coffee and cakes. It is a beautiful spot to sit outside and admire the Ocean. The Bonjour Café is also open for lunch and dinner. The service at this café is seamless and friendly; you should stop by when in the area.
Saint Chicken
Saint Chicken is a top-notch chicken Rotisserie restaurant and also includes a cocktail bar. It is in a beautiful location on the St. Leonard Seafront and is frequented by visitors and locals alike for their favourite chicken meals. The food and service here are excellent.
Just Desserts Café
This Café serves much more than just desserts, you can find a wide assortment of sandwiches, Salads and Baked potatoes, along with your favourite tea or coffee. The desserts though are some of the best freshly baked options in the town of St Leonards On Sea – from cheesecakes to Marshfield Ice-cream. You will surely not leave the Café without trying at least one of these tasty treats!
Things to do In Hastings
Once you have been fed and watered then why not explore a few of the many attractions in Hastings.